July 1985 - such innocent times! At least they were for me, in my second year at secondary school (in old money - no such thing as Years 10 and 11 etc in those days).
Five and a half years later, I joined G B Hooper & Son (later to trade simply as Hoopers) as a nervous 18 year old trainee researcher. Over the course of the last three decades, both our company and the industry we're a part of have, in many respects, altered beyond recognition. Yet the core of who we are and what we do remains fundamentally unchanged.
The pace of our work was glacial by today's standards. The cramped, wholly inadequate environs of the St Catherine's House search rooms on the Aldwych was the hub upon which our entire profession was based. Lengthy searches through birth, death and marriage records could be a five (or more) person job.
Census records, frequently all but illegible, were only available to view on microfilm in a dark basement in Chancery Lane. Copies of Wills and Grants, both ancient and modern, could be viewed and purchased for a mere 25p at what is now the stately Seamen's Hall at Somerset House (the Thameside Terrace had been closed to the public for decades, and would remain so until the new millennium). Trips to local register offices to scour their records was standard practice, much to the disgruntlement of registrars who often had far better things to do than accommodate genealogists.
As with so many businesses, technology has changed all this, with various databases having long since superseded paper records. What hasn't been superseded is the instinct and ingenuity required to circumnavigate these records, and to anticipate the endless gaps, inconsistencies and red herrings inherent in our field of work. Hoopers, both past and present, has been fortunate enough to employ some of the finest researchers in the world.
The vastly increased pace of our research has gone hand in hand with a similar escalation in our workload - the "hundred or so" cases each year quoted in the 1985 Times article is now most definitely numbered in the thousands.
For more than 20 years, my role was that of the man in the cartoon with the Hoopers briefcase (albeit sans bowler hat and Chaplin moustache), making contact with and interviewing beneficiaries. During that time I witnessed people in desperate financial circumstances subsequently benefit from unexpected windfalls. Beneficiaries I have met with, and had the pleasure to introduce to Hoopers, range from a retired Harley Street doctor in his country retreat, to a convict in his prison cell. All have been treated with the compassionate, respectful and understanding approach upon which Hoopers has built its reputation.
In recent years, TV documentary series have made probate genealogy a far more well-known industry than it once was. As a result the profession has become increasingly competitive, with some behaviour and tactics bordering on cut-throat. Through this rapidly changing environment, Hoopers has adhered firmly to the principles which have stood us in good stead for our first 99 years, and as we approach our centenary we're proud that our reputation as the ethical choice of Probate Genealogists (as opposed to "Heir Hunters") remains secure.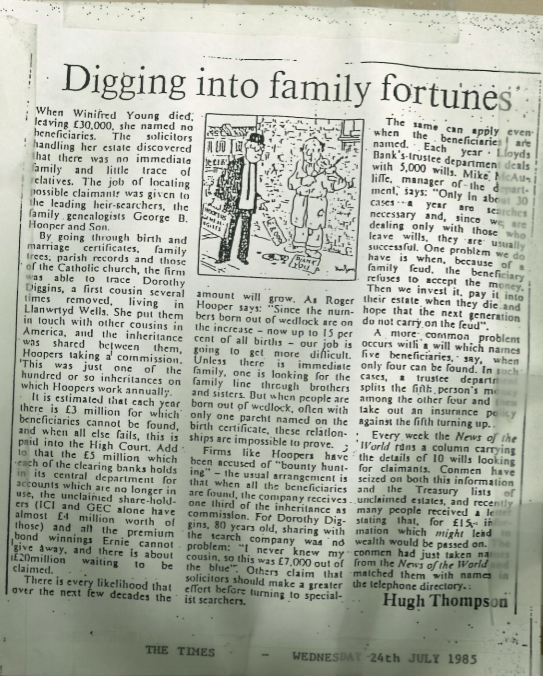 Johnathan Wright, CEO
« Back to News